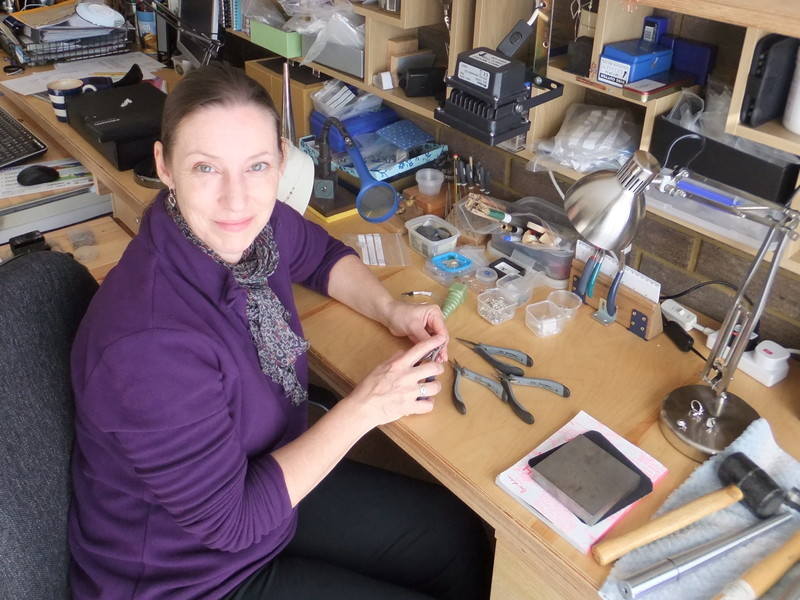 I am a UK jewellery designer with a background in art and teaching. I create handcrafted sterling silver, fine silver and gemstone jewellery using metalwork and wirework techniques. I enjoy exploring the different textures that silver can show through hammering and stamping. I love how these change the way the light catches on the metal. I also have a 'flower' thing going on and keep challenging myself to find different ways to incorporate flower designs into my jewellery.
I have written several wirework tutorials that I sell here on my website, along with others that I have written for various magazines and books.
All my jewellery has been designed and made by me at my home workshop in a beautiful village set at the foot of the North Downs in Surrey, England. I take photographs of my jewellery in natural lighting which I find helps show off the beautiful colours of the gemstones.
Commissions and custom orders welcome - please contact me to discuss your requirements or if you have any questions about any of my jewellery pieces or wirework tutorials.
Please also stop by at:
FACEBOOK: https://www.facebook.com/KSJewelleryDesigns
INSTAGRAM: https://instagram.com/ksjewellerydesigns/
FLICKR: https://www.flickr.com/photos/ksjewellerydesigns
PINTEREST: https://www.pinterest.co.uk/ksjewelleryuk/handmade-jewellery-by-k-s-jewellery-designs/
I also sell my jewellery online at: